The Funsized Formula
A Healthy Balance of Food, Fitness, and FUN for Females Under 5'3"
Watch Promo
Enroll Now
If you're a female under 5'3"...
who wants to lose weight and build muscle, then you probably already know you need to live a healthy lifestyle.
I'll spare you the spiel.
No need to be a broken record and convince you of something that's already been drilled deep into your little head.
After all, you probably already know that living a healthy lifestyle is all about consistency and would make weight loss sooo much more sustainable.
You probably also heard it's harder to create a calorie deficit since you are short.
Even if you're lucky enough to have a gym membership, supportive partner, positive mindset or time to cook (lucky you!) … there are STILL more challenges you face as a short babe.
Here's why it's SO had for women under 5'3":

They fall victim to workout plans and meal plans that are made for taller people because there is a lack of clarity over exactly what petite women need to do differently to lose weight.
Here's why this is irreversibly crippling:
As a petite woman who already requires slightly less calories than the average-sized human, it is more difficult to create a caloric deficit without feeling restricted and deprived of food.
And since it doesn't take much to put you over on calories, your margin of error is so small that you literally cannot afford to veer off course.
OH and if you do, that bloat shows a lot more because you have less height to distribute it across.
In all likelihood, your past attempts at living a healthy lifestyle have failed because your height (or lack thereof) was not properly considered.
And you felt deprived of all fun. And therefore, it was miserable.
But don't worry, you're not alone.
Now there's a manual for ladies just like you.
I have a golden opportunity for you to jump in, clean up the mess, and start to balance food, fitness and fun, to look and feel your best!
SHHH… I'm going to let you in on another SIMPLE LITTLE SECRET
The secret to finding balance is to plan your workouts, daily meals, and self-care practices in a way that's conducive to your current lifestyle so that it's easy to integrate into your routine while maintaining a positive mindset and consistently making small changes to those plans as your body begins to change.
Whew… I know. It sounds like there are a lot of moving pieces in there. Where to even begin?!
The key ingredient to all of this is to do one thing at a time.
And with your permission, that's what I'd LOVE to show you how to do. Step-by-SIMPLE-step!
Introducing the

A Healthy Balance of Food, Fitness, and Fun for Females Under 5'3"
I've taken everything I've learned from my petite clients' and my own transformation and channeled it into a comprehensive, step-by-step implementation program that not only teach you the petite way of eating and exercising, but the actual execution.
Yes, you'll learn the strategies behind everything you do, but more importantly, you'll have the formula that feels totally doable and almost effortless as you implement it.
The end result: A long-term way of planning your food and exercise, practicing mindfulness and reflection, while actually enjoying it so that you can slim down, tone up, and boost your confidence.
The Funsized Formula is the first program of it's kind that…
...IS CREATED SPECIFICALLY FOR WOMEN UNDER 5'3"
It's time to harness your height and start to think, eat, and workout like a petite woman should!
...ENCOMPASSES ALL THE PETITE PIECES
Equal implementation of mindset, exercise, nutrition, and vital self-care practices that will have you feeling your best!
...TEACHES YOU HOW TO CREATE YOUR OWN HEALTHY LIFESTYLE
No bullshit calculations, strict meal plans, impossible workouts, long cardio sessions, expensive supplements or woo-woo mindset practices that seem sexy on the surface, but do nothing but overwhelm you and sabotage your progress. Just real and simple strategies that work (– as long as you do!)
...REQUIRES YOU TO ENJOY WHAT YOU DO
Without happiness, you'll never make it a lifestyle. I'll teach you how to plan workouts and create meal plans that you LOVE so that it's easy and effortless to follow.
Your Instructor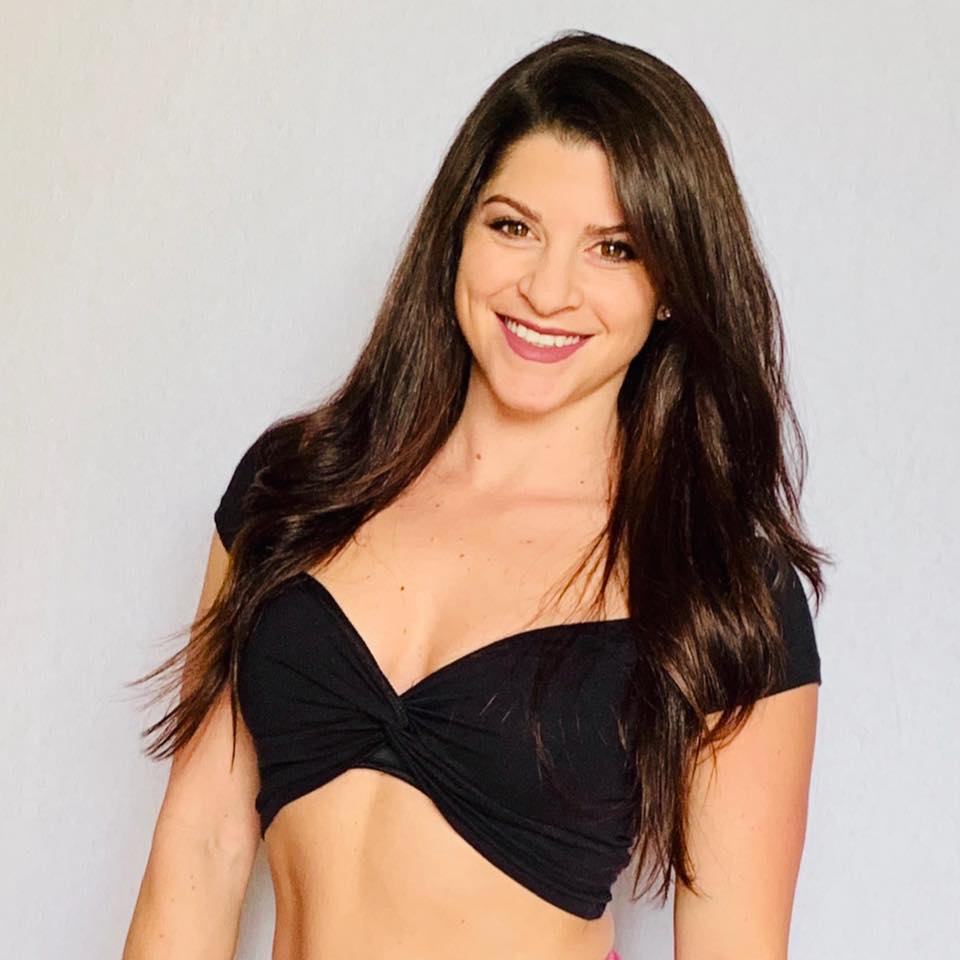 Hi, I'm Kier :) I'm 5'0" and damn proud! I used to feel discouraged and limited by my height until I uncovered the nutrition and fitness strategies to get and STAY lean. Now I'm sharing all my #little secrets with pint-sized ladies everywhere!
Course Outline
WEEK 1 - MINDSET
Getting in the right frame of mind is more than just having high motivation. In this module, you will be digging deeper to explore your ultimate desires to push you forward even when motivation slips later on (because you already know it always does). It's time to overcome that "all or nothing" mindset that always seems to stop you from achieving the things you want.
You will also learn how to practice gratitude and daily affirmations to build a stronger mindset that will propel you through this course and beyond.
Highlights:
Set your goals and get clear on your 'why' to keep you on track to hit them.
Use the 5-minute journal outline daily to set positive intentions that will leave you feeling happy and ready to take on the day.
Undergo the 5 mindset shifts you need to successfully complete this course and create a long-lasting healthy lifestyle.
WEEK 2 - EXERCISE
Since building muscle is the key to increase a petite girl's metabolism, you will learn which fitness equipment is best for petites (and what isn't) and how to incorporate step goals that will increase the fat-burning effect way more the elliptical ever will.
This is where you'll devise your workouts for the week ahead based on your schedule, available equipment, and exercise level. You'll have your exercises, sets, and reps planned out so that when you step foot inside the gym (or your home gym), you'll know exactly what you're doing and won't waste any time wondering what to do next.
Even if you can only workout 2-3 times per week, this module will help you feel organized and dedicated to your exercise routine.
You will repeat processes for Module 1 while implementing these new exercise practices.
Highlights:
Discover the petite-friendly workout equipment that feel right for your size.
Incorporate step tracking (the right way) to increase your fat-burn over time.
Plan realistic workouts that you can and want to complete using the workout planning template. (You can even follow my petite power workout program bonus!)
Learn how assess what went well and what didn't go so well so that you can become your own coach by using this information to create your next realistic workout plan.
WEEK - 3 NUTRITION
Now that your exercise program is planned out, it's time to hone in on the part that will get you the visual results you've been looking for.
Here, you'll plan out meals that you cannot wait to follow based on your preferences and availability.
Even if you've never created for even followed a meal plan in your life, this module will break it down into simple, easy-to-execute steps that will finally make you feel confident about planning your meals on a day-to-day basis.
You will repeat your processes for Module 1 & 2 while implementing these new concepts.
Highlights:
Create realistic daily meal plans with only foods you are willing and excited to eat.
Implement my meal planning framework to ensure you're getting a variety of nutrients. Goodbye unnecessary cravings!
Learn the best times of day to eat carbs versus the best times of day to eat fat so that you maximize your muscle building efforts.
Use a volume eating approach to feel satisfied yet not rack up the calories.
Discover where you might be getting unnecessary calories that could be hindering your progress.
Learn where your old food patterns were faulty and how to prevent yourself from making the same mistake over and over again.
WEEK 4 - LIFESTYLE
Now that you've been using the formula, it's time to assess how it's going. You'll look back at what you planned for versus what actually happened (without self-judgment).
Here, you'll learn to see where you can make small changes to be just 1% better next time so that you continue to make progress and move towards your goal.
You'll repeat your processes for weeks 1, 2, and 3 while implementing 1-3 self-care practices to alleviate any stress that you may encounter.
Highlights:
Learn how to self-assess so that you can make smarter choices and mini changes constantly so that you make progress towards your weight loss goal.
Use my survival guide to discover what to do when life throws you curve balls such as if you get sick, when you travel, or how to order when you get invited out to dinner, and much more!
Understand how stress contributes to belly bloat, why it's worse for petites, and how to alleviate it.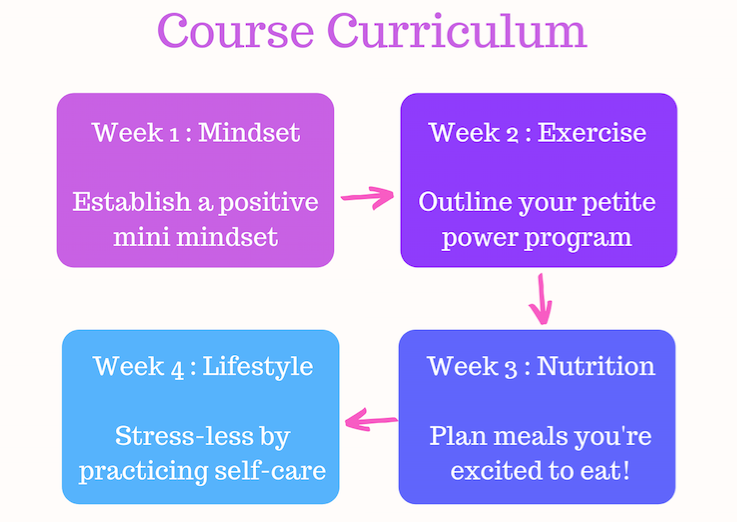 Take the Funsized ROI Challenge
Sure, in the Funsized Formula is going to introduce you to the petite way of practicing self-care through exercise, nutrition, and mindset which will help you permanently divorce yourself from the diet fads, and instead initiate you into a brand-new paradigm of balanced healthy living
One that's more realistic, more maintainable and falls completely in line with your short stature.
But unlike other programs, I don't want you to wait 8 weeks before you kinda, maybe, sorta begin your transformation.
If you don't feel like you're well on your way to a better and healthier you while feeling SO much more confident in your ability to finally understand your petite body, just let Kierstin know at [email protected] within 21 days showing that you put in the work, and we'll fire back your investment so that you'll only have to pull together a couple thousand dollars for future health issues you could have prevented.
Frequently Asked Questions
How much time will I have to dedicate to this course?
I'm so happy you asked this question! I know you are a busy gal so I made each video as short and sweet as possible so that we get right to the point. There are 4 modules inside this course, each module has 4 lessons that will take you under 5 minutes to watch/read and complete. The tasks to complete per lesson will take you anywhere from 1-30 minutes tops. Therefore, each Module should take you LESS THAN 1 hour over the course of 1 week. Which breaks down to Less than 8.5 minutes per day.
What results should I expect to see?
You should begin to feel less disappointed and more grateful of your petite body after week 1. As you begin to align your healthy lifestyle and improve the way you treat your body, you can expect to see improvements within two to four months. Yet the real value of this protocol for your health and happiness is not a short-term fix, but as a better way of living. It proposes a new way of operating and caring for yourself in other to protect your invaluable body for years to come.
I have invested a lot of time and money into other resources and nothing has helped. How is your course different for petite women?
I know how you feel because I've been there first hand. I have spent my hard-earned money on professionals, supplements, eat clean/get lean programs that promised to help me in my journey, but they didn't. This course is a compilation of resources and practices that have helped me and many of my clients find balance with food and their body. It isn't a cookie cutter course about how to find the next best way of eating or exercise. This is about going back to the basics and taking action on your INDIVIDUALIZED needs.
Will I have to track macros?
Great question! No, this course does NOT require you to track macros but you will be keeping a food log/journal. The difference is that you are not worried about numbers or calories. You're simply planning out your meals one day at a time and before you plan for tomorrow, you take a look back at what did or didn't work for you today and use that small piece of insight to create a better plan. Counting macros might be another tool that you use later in the future once the funsized method of planning becomes engrained, but counting macronutrients is unnecessary right now. Think about all the money spent on supplements, powders, gym memberships, contest entry fees, food/meal prep, drugs, and TIME spent on all of this.. it's about damn time you make one last smart investment in yourself and your health for long term sustainability, so you won't have to be dependent upon all that shit anymore! All we're doing here is exchanging value for value, between you and I - that's how I'm able to continue to help you and others!
Will I have access to everything once I enroll?
I'm so glad you asked this question! I will be releasing one Module every SUNDAY. I want to make sure that you are building on one piece of the puzzle at a time and it's really important to do things in the order I put them in. Dripping the content over the 4 weeks ensures that you don't go too fast. The content is not live so that you can access it on your own time and once you have access to it, you have access to it for a lifetime. Here's the drip schedule: Week 1: Mindset (Available on March 1st) Week 2: Exercise (Available on March 8th) Week 3: Nutrition (Available on March 15th) Week 4: Lifestyle/Stress Management (Available on March 22nd)
What is the return policy?
There is a 21-day money-back guarantee for the Program. By that time you will have received access to 75% of the entire program. If you don't feel like you're well on your way to easily implementing a healthier lifestyle, show me that you put your best effort to apply all the strategies in this course and I'll fully refund your investment.
Can you remind me of everything I'm getting when I sign up today?
Absolutely! Inside the Funsized Formula you are getting my unique no-BS framework for creating a healthier (and happier!) lifestyle that you can easily implement into your routine without feeling like you're dieting or over-exercising. You're getting my positive mindset protocol, training concepts, nutritional framework, and self-care practices to prevent, avoid, and alleviate added stress, bloat, and overwhelm.
I saw your course and it looks perfect but I am not sure that I would commit to it because I'm afraid to fail.
I understand where you're at completely. This might feel like a big commitment, but if you're really taking this serious you need to look at these things as an investment in your future. For a future of freedom, adventure and quality of life and for hope that it's possible! Committing to something that is unknown, different, uncomfortable and that requires change of our beliefs, behaviors and habits is scary, confusing and frustrating. But commitment can also mean letting the information work on you as you just soak it up. What happens is, along the way, you may get these "aha moments" and that's when it can all change and you end up realizing you were ready all along, you just needed to gain strength and momentum which is what hopefully my course information can help you do. Because knowledge is power! So you may not feel ready, but at one moment, it can all shift. Everything we want is on the other side of fear. Everything we want is outside of our comfort zone. ​​​​​​And ask yourself this: when will you ever feel completely "ready?" You have to get to a point of being DONE, fed-up and ready to stop letting this control your life and steal your health. It's time to commit, let go and trust yourself, your body and that you will be successful!
What will I need to successfully complete this course?
You will need a notebook (or a note app), access to fitness equipment, a wearable step tracker (like fitbit or apple watch), a Facebook profile (to connect with other students) and a willingness to discover yourself!
You're ready to achieve brag-worthy wins inside The Funsized Formula if you…
Are a female under 5'3" who wants to get this eating and exercising thing right by using only the most powerful, easy-to-follow, straight-to-the-point strategies.
Been trying to live a healthy lifestyle for months (or even years) but haven't been able to stick to anything for more than a few weeks and you just want to fix it once and for all.
Ultimately want to lose weight and build muscle and you're willing to put in the work as long as you know that every bit of energy you invest is a strategic and meaningful step forward on sculpting a body you're proud of.
Want to find balance between healthy living while still having FUN because you still want to enjoy your life.
Already investing at least 3 hrs/week actively trying to lose weightbut you're not sure if what you're doing is even right.
Already invested in other programs or supplements that left you frustrated and disappointedwith 'why the heck do I even bother' results, followed by crippling overwhelm around what to do next.
Have a big fear that if you don't do something now, you'll continue to gain weightand stay stuck and embarrassed of your body.
Aware and excited about establishing sustainable habits that promote on-going fat-loss. Even if you get side-tracked, you're currently feeling a wave of renewed optimism, knowing that you'll have the strategies and resources to keep going because you have lifetime access to this course.
Aware and excited about creating healthier habits will set you on a path to more happinesswhich will allow you to be a better person to partner, kids, co-workers and anyone else who comes in contact with you.

Ready to take the actions needed to generate a better and healthier version of yourself while feeling SO much more confident in your ability to finally understand your petite body!
If you said 'yes' to at least 6 of the above, I can't wait to meet you inside The Funsized Formula!
Course Curriculum
Intro
Available in days
days after you enroll
Mindset
Available in days
days after you enroll
Exercise
Available in days
days after you enroll
So now YOU have the same two options I once faced:
1. Keep ignoring the problem, avoiding the mirror, continuing to binge on the weekends and drown in your own misery......
OR
2. Step into the path of the now-known food and fitness protocol for petite women, and go "all-in" with this kinda-weird, kinda-scary, kinda-fucking awesome FUNSiZED FORMULA!